ESD's surface mount assembly facility operates in a controlled anti-static environment. Using our fully automated Surface Mount assembly line we supply our customers with prototypes to high volume production. In order to do this we have a flexible production line set up. We use multiple machines in series for large projects or run multiple smaller projects simultaneously.
At ESD we process a variety of PCB materials including flexible PCB's, standard FR4 and aluminium boards. Our machines handle a wide range of  PCB sizes; from very small to approximately A3 in size (and occasionally larger).  We process both single and double sided boards, and single or multiple layer PCBs. Small PCBs are generally processed as panels for ease of handling.
Customers can prove their designs using ESD's PCB prototype assembly service, in addition ESD can source the PCB and components if required
HOW DOES SMT ASSEMBLY WORK?
Setup

To begin with we use our customer's gerber files to program the machine with where components must be placed. We then select the components indicated on the BOM and load them into each machine. Solder paste is applied to the PCB through a stencil to ensure accurate placement, (the paste is later set by heating to form the electrical bond between the pcb and component).

Production

A conveyor carries the PCB through the machines and stops at given locations. The internal machine program firstly instructs the robot to select components in order. The internal camera next identifies and orientates each one before accurately placing onto their locations. The populated PCB next travels through a reflow oven to heat the solder which secures the components in place.  The PCB passes to our inspection team once it is cool.
ADVANTAGES OF SMT
A higher number of surface mount components fit into the same space when compared to through hole. The process is simpler and faster which shortens the overall production time and therefore cost.

The process itself automatically corrects minor placement errors. The PCB is usually a lot smaller than an equivalent through-hole board. Surface mount components can be placed on one or both sides of the PCB.
Surface Mount Machines
SMT Machines
Reflow Oven
SEVERAL TEMPERATURE ZONES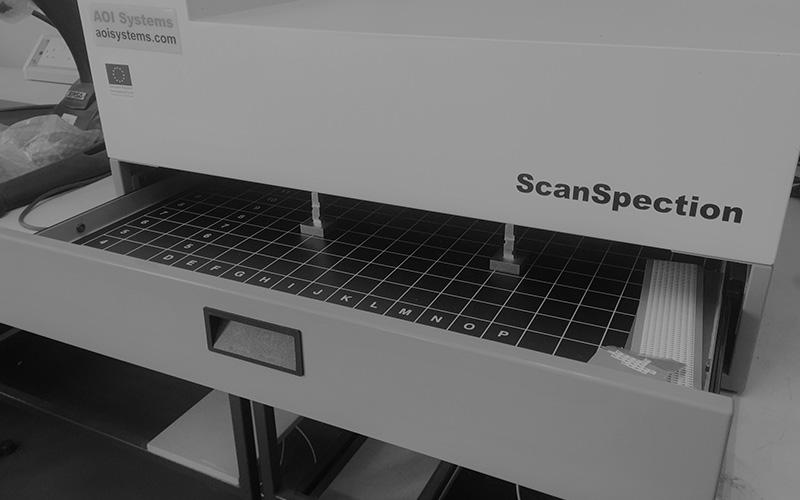 AOI
(Automated Optical Inspection)
BUSINESS SECTORS WE DEAL IN
Here are examples of some of the industries and applications that you'll find ESD products worldwide.